About
Kappa is a graphic emoticon commonly used by trolls as a postscript to a sentence to convey sarcasm on the live streaming video platform Twitch; it's popularity has also lead to the emoticon being used as a form of spam.
Origin
The Kappa emote is based on a grey-scale photograph of Josh DeSeno, then an employee of Justin.TV working on the chat client, which was uploaded during the early days of Justin.TV, along with others emotes based on JTV employees.
Spread
As of February 2014, the emote is used 900,000 times on average per day; by June 2015 this had already increased to around 1 million times on average per day. Twitch has added a total of four emotes featuring Kappa: Kappa (
), Keepo (
), MiniK (
) and KappaHD (
); another unique Kappa titled KappaRoss (
), featuring the original with Bob Ross' hair, was added in October 2015 in celebration of Twitch Creative. On February 18th, 2012, r/kappa/ subreddit was established. It has got over 13,900 readers. On July 13th, 2014, first submission for Kappa on Urban Dictionary was made, and on October 13th, the top definition of the "Kappa" emote was submitted by R4D1AT10N.
KappaClaus
In December of 2015, Twitch introduced the KappaClaus emote, a version of the Kappa emote with a Santa Claus hat on his head (shown below). The emote has typically seen an increase in use around December.
KappaPride
KappaPride is a Twitch emote featuring Kappa with a rainbow background used to affirm or inquire about one's homosexuality. A thread about the emote was posted to Bungie forums in October of 2015. In October of 2015, a study by FiveThirtyEight found that the emote was the second most-used emote on Twitch behind regular Kappa. On November 15th, 2016, Urban Dictionary user defined it as "Rainbow version of twitch emote Kappa. Can be used to affirm or ask about someone's homosexuality." There are several variations on the image available on Twitch.
Various Examples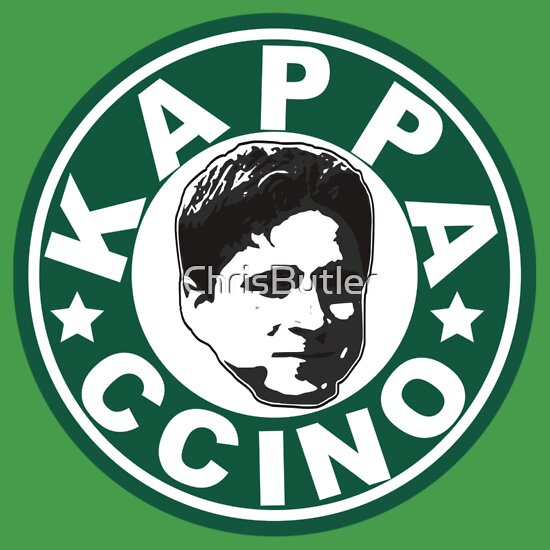 ASCII

Variation

There's also a popular ASCII used as a replacement for emoticon variantion:
░░░░▄▀▀▀▀▀█▀▄▄▄▄░░░░
░░▄▀▒▓▒▓▓▒▓▒▒▓▒▓▀▄░░
▄▀▒▒▓▒▓▒▒▓▒▓▒▓▓▒▒▓█░
█▓▒▓▒▓▒▓▓▓░░░░░░▓▓█░
█▓▓▓▓▓▒▓▒░░░░░░░░▓█░
▓▓▓▓▓▒░░░░░░░░░░░░█░
▓▓▓▓░░░░▄▄▄▄░░░▄█▄▀░
░▀▄▓░░▒▀▓▓▒▒░░█▓▒▒░░
▀▄░░░░░░░░░░░░▀▄▒▒█░
░▀░▀░░░░░▒▒▀▄▄▒▀▒▒█░
░░▀░░░░░░▒▄▄▒▄▄▄▒▒█░
░░░▀▄▄▒▒░░░░▀▀▒▒▄▀░░
░░░░░▀█▄▒▒░░░░▒▄▀░░░
░░░░░░░░▀▀█▄▄▄▄▀░░░░
░░░░░░░░░░░░░░░░░░░░
Search Interest
External References