About
Goth GF refers to online jokes about having or wanting to obtain a goth girl as a girlfriend. Image macros referencing "goth gfs" typically present the women as rare and highly desirable.
Origin
On April 12th, 2014, Tumblr user gothstan posted a mock conversation titled "me and my goth gf," in which he says "bb ur hands r so cold" to which his goth girlfriend replies "that me soul." Within four years, the post gained over 69,300 notes.
Spread
On September 7th, 2016, Twitter user @Sadieisonfire posted an Ed, Edd n Eddy image macro with the character Ed holding a sign with the sentence "looking 4 a goth gf" painted on the front (shown below). Over the next year, the tweet received more than 1,700 likes and 960 retweets.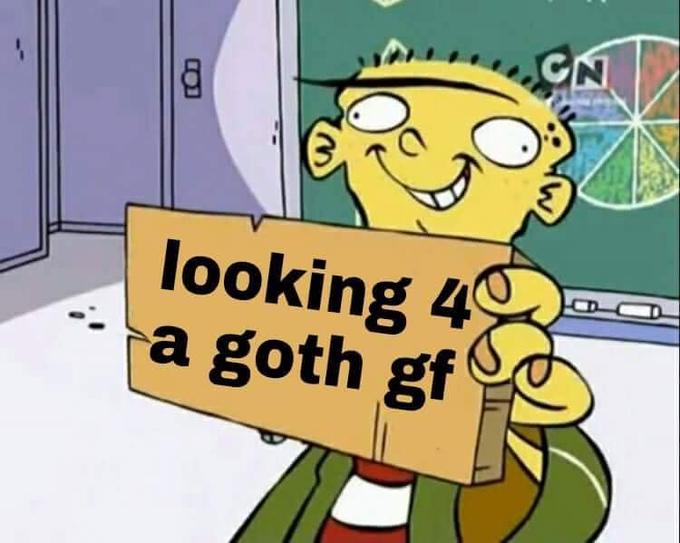 On February 12th, 2017, YouTuber FrankJavCee tweeted "My goth GF just turned into a bat and flew away into the night, again!" (shown below).

On June 22nd, the "Fuck I Want a Goth GF" Facebook page was launched. On September 24th, the "Big Tiddy Goth GF Memes" Facebook page was launched.
On October 12th, 2017, the Senpai Waifu Facebook page posted a What's the Matter, Little Fella image macro with the bottom caption "Don't have a big tiddy goth gf?" (shown below).
Kiwi and Siouxsie the Parrots
On September 4th, 2017, Twitter user @painthands tweeted a photograph of her rainbow-colored parrot Kiwi next to a black-and-white female parrot named Siouxsie along with the message "I got Kiwi a lil goth gf" (shown below). Over the next year, the tweet gained over 421,000 likes and 129,000 retweets.
The following day, Twitter published a Moments page about the parrots titled "Meet Kiwi and his goth girlfriend who are very much in love." On April 25th, 2018, @painthands tweeted photographs of the two birds, along with the announcement that Siouxsie was expecting to lay eggs in the next week (shown below).
On July 9th, @painthands tweeted photographs of the birds and their newly hatched babies, garnering upwards of 763,800 likes and 268,100 retweets in 48 hours.
Various Examples
Search Interest
External References